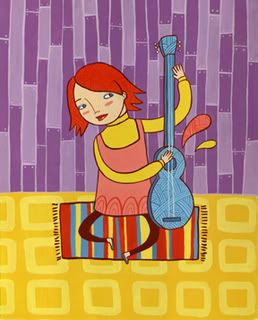 Hello everyone! Lauren from laurenminco.etsy.com here, and this August I'm trying something new. I'm always working on teaching, freelance illustration, or gallery work, but the truth is that I do alternate between the three, sometimes days (or weeks) separating the "shifts". This Fall, I hope to do one thing each workday (Monday-Friday) focusing on my freelance work in order to really push that area of my life. This includes working on my new website, creating a portfolio piece, sending mailers, or just buying stamps. I'm calling it Operation One Thing A Day, or Operation OTAD for short. I don't have a particular goal, just to stick with this philosophy and hope that I see big pay off once Christmas rolls around (for the sake of the "experiment", let's say Mid December is when I'll look back and reflect on my progress).
I invite you, dear reader, to join me no matter what your objective is. You could even try one thing a week (OTAW??) if that fits your lifestyle better. Today my goal is to work on my new mailers. What will you do??
You can follow my progress at http://adventuresofminco.blogspot.com
If you like this Arts In RI blog post...spread the love!